Swing away, a different way.
The DeBary Country Club Tennis Center offers private lessons, match play, round robins and group clinics for all ages and skill levels including league play. The Club offers memberships and daily court rentals for guests of Members. In addition to the fall and winter programs, DeBary Country Club offers a full summer program for juniors and seniors, and continues to offer summer programs for all skill levels. Tennis memberships are available. Tennis Members and guests have access to the clubhouse, which features a fully-stocked pro shop and men's and ladies locker rooms.
The DeBary Country Club Tennis facility has six lighted tennis courts, including four hard courts and two clay courts. Our PTR/USPTA certified tennis professional offers private and group tennis instruction for beginners as well as the tour professional. DeBary Golf & Country Tennis Center also offers a variety of adult and junior clinics.
Lesson Programs
As part of our expansive tennis program, we offer a variety of tennis lessons and training programs. Check with the pro shop to find out more.
Our coaching methodology is available to players of all ages and abilities, ranging from the very young to social players to seasoned professionals. We are able to provide a full range of coaching options which include: private lessons, group lessons, clinics, setting up match play/tournaments, strength and conditioning training and off-site lessons and clinics.
Our tennis programs are conducted with our highly experienced PTR (USPTR) or USPTA professionals and designed to ensure that every student receives the technical, tactical, physical and mental training within an optimum learning environment. Our lessons and programs are a fun and great learning experience, geared towards all levels of play. Each lesson is spent going through a series of proven drills, exercises and match play situations designed to enhance stroke production, mechanics and improve singles and doubles play.Our special training programs include:
Marathon Drill – a never-ending drill that guarantees a full-body workout. It places a high demand on footwork and racket preparation. The fundamentals of ground strokes and volleys are emphasized at full speed and can improve the student's fitness at the same time.
Cardio Tennis – a new, fun group activity featuring drills to give players of all abilities an ultimate, high-energy workout. This program is geared for existing players as well as beginners to get a great cardio workout while improving your skills.
Who's Teaching?
We'll let our Head Tennis Professional introduce himself...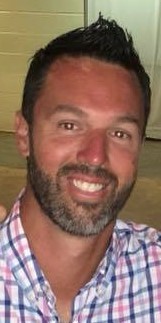 My name is Brad Erlandson and while I was born in Massachusetts (Go Patriots!), I was raised in Volusia County, FL. I developed a love and passion for tennis at a very young age while playing on the tennis court in my grandmother's front yard. My younger years were spent playing USTA tournaments, watching, and mastering the technique of the sport.
I began my teaching career at a tennis center in Asheville, NC in 2008 where I became PTR certified while maintaining my USTA membership. I played in a variety of leagues and traveled the surrounding states playing in tournaments. After returning back to FL with my wife and infant daughter in 2009, I continued my profession at the FL Tennis Center in Daytona Beach and became the head tennis pro at the David E. Disney Tennis Center in Deland, Hyatt Regency Grand Cypress in Lake Buena Vista, and Debary Golf & Country Club in Debary. I have enjoyed working with students of all ages, from 4 – 90+ years old, from beginners to advanced players. I have watched some of my younger students grow, mature, fall in love with the sport, and become amazing college athletes as they compete and continue their success into their professional careers. I now devote 100% of my time to Debary Golf & Country Club while promoting many adult and junior program classes – with Cardio Tennis being one of my most popular and exciting classes. I continue to create individualized plans that support the goals and needs of each specific client. I provide professional racquet stringing and re-gripping services to clients as needed.
I have been happily married since 2005 and now have the opportunity to grow the love of tennis in both my daughter and son. Let me help YOU experience the love and passion of the great game of tennis!
Also, NEW to Our DCC Tennis Team is Mike Branan. He joins DCC as an Assistant to the Director of Tennis and will be providing additional instructional opportunities.
Mike has been playing tennis for 35 years, having started at Oak Street Park in Kissimmee, FL. He is a Global Cardio Tennis Instructor, a USTA Referee, Chair Umpire, and Tournament Director. He also is an Official with the Intercollegiate Tennis Assoc. He knows this sport and is excited to help grow tennis at DCC.
Outside of Tennis, Mike is a Certified Personal Trainer. He specializes in functional training as it relates to rehab and pre-hab, and believes that recovery is just as important as training. He is a dog lover and foodie.
Pickleball | Learn an Exciting New Sport!
Pickleball is a paddle sport that combines elements of badminton, tennis and table tennis. It can be played in doubles and by all skill levels and ages. It's played within the area of both tennis service boxes using large paddles to strike the plastic pickleball (similar to a whiffle ball) back and forth over the height of a regular-sized tennis net. We have three designated pickleball courts.
Pickleball is an easy and fun sport to learn, and many families enjoy spending quality time while playing this exciting game together. Look forward to seeing you on the courts.
Who's Teaching?
We'll let our Pickleball Instructor introduce herself...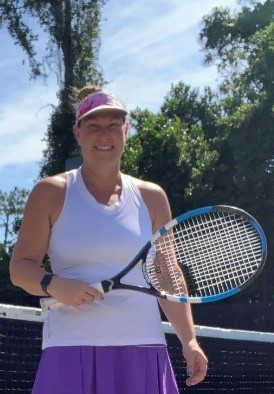 My name is Theresa Moore and I've been a member at Debary Country Club since 2016. My family and I have enjoyed being members at the club attending holiday events, trying to win trivia night, playing tennis, and bogeying our way around the golf course.
After taking pickleball lessons and competing in round robin play, I wanted to get more involved in the sport. As a professor for the last 16 years, pickleball coaching seemed like a natural path to sharing the sport with others. I am a USA Pickleball certified coach and part of the Pro Pickleball Registry. I look forward to teaching fundamentals, making drills fun, and – most importantly – getting to know more of you. I promise my pickleball clinics and events will be welcoming to all skill levels.
I've played tennis since high school and play socially and competitively with DCC. I have also started playing golf since joining DCC, but that is still a work in progress. I think I hit as many golf balls onto the courts from the 9th hole's fairway as I do tennis or pickleballs. I cannot wait to see you all out on the courts!
Organized Play
Members ONLY Free Clinic | Every Wednesday at 9AM | Weekend Clinic TBA Soon...
Monday/Tuesday/Thursday | 4:00 PM - 6:30 PM
Pickleball paddles and balls are available for rent.
$5 per bag, which includes four paddles and three balls.